5 Predictions on the Future of Telehealth
5 Predictions on the Future of Telehealth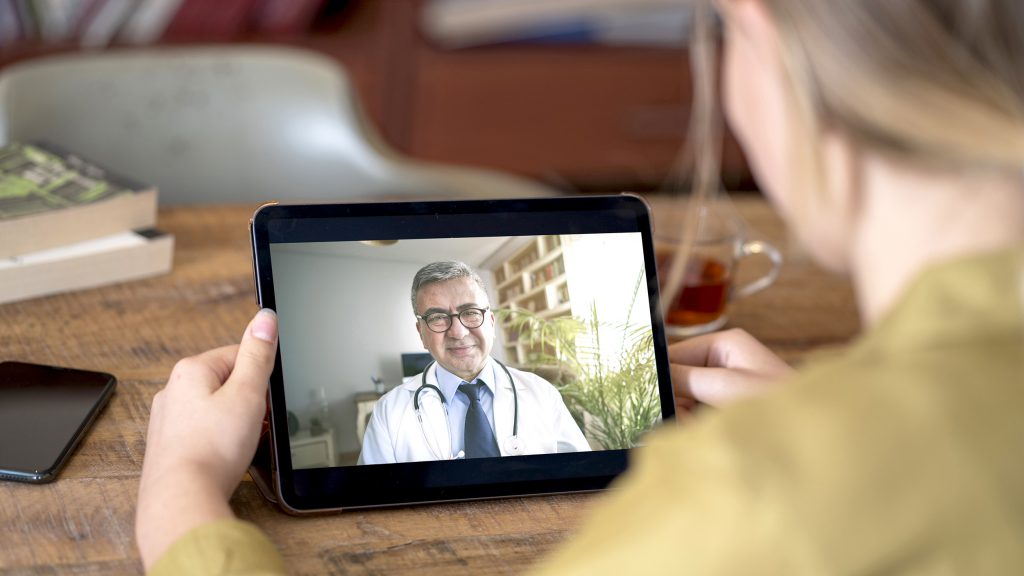 Is telehealth the future of healthcare?
If you asked that question two years ago, you would've gotten a very different answer than the one you'll get today. The COVID-19 pandemic reframed every conversation around the future of telehealth, creating questions and opportunities in equal measure.
Here are 5 predictions about how telehealth is shaping the future of healthcare.
1. The shift to telehealth happened fast, but it's here to stay
Everyone in healthcare knows that the industry is slow to adopt change. COVID-19 changed that. Providers who were cautiously considering the future of telehealth medicine had to implement solutions virtually overnight. While the transition created many challenges, it also created momentum as the industry put plans they had for telehealth in the future into action immediately.
The results were largely positive, for patients and providers:
By May 2020, 76% of consumers said they were interested in using telehealth compared to just 11% in 2019.
57% of providers view telehealth more favorably now than they did two years ago, and 64% are more comfortable using it.
After COVID-19 subsides, up to 80% of customers say they'll continue using digital health-and-wellness tools.
What's more: Experts believe that telehealth is one of the pandemic trends that's likely to stick while others will subside. In the near future, remote learning, air travel and live entertainment will likely return to pre-pandemic levels, while others — e-grocery shopping, nesting at home and virtual healthcare visits — are here to stay.
2. Telehealth will save money and improve care long-term
One reason experts are banking on telehealth in the future is that it's financially sound. Digital technology has the potential to reduce care costs in healthcare systems worldwide — to the tune of $3 trillion a year by 2030.
Furthermore, experts believe that the right combination of remote monitoring, AI and automation will actually improve care while driving costs down.
3. RPM will continue reducing the need for in-person care
When it comes to how telehealth is shaping the future of healthcare, a huge piece of the puzzle is remote patient monitoring (RPM). Whether you're tracking patients at home before surgery or checking in on medication adherence, RPM will be key to the future of telehealth nursing, medicine and care at large.
In the next few years, RPM will continue allowing providers to:
Make more timely interventions
Prioritize readmissions and reduce unnecessary in-person visits
Allocate resources to high-risk patients first
Manage transitions of care
Test new technologies and care plans more effectively
Chronic care management
Chronic care management is one area where RPM is already revolutionizing care. For patients with conditions such as diabetes, obesity or heart disease, frequent in-person provider visits no longer feel necessary or cost-effective. Patients want new ways to manage their conditions at home.
RPM facilitates that by giving providers the tools they need to:
Collect patient data with wearable technology and monitoring devices
Use predictive algorithms to identify which patients need care now
Track conditions such as sleep apnea, heart disease or COPD in real-time
Stay connected with patients via health informatics, data integration and cloud technology
While RPM was a nice option to have pre-pandemic, today it's the standard of care.
4. Reimbursements are the wild card
Currently, both government and commercial payors are reimbursing telehealth at the same rates as in-person visits. But as the state of emergency expires, providers are left to wonder: Is telehealth the future of healthcare when reimbursement is still up in the air? Providers will be following that question closely in the coming months and year.
The industry sees both pros and cons to telehealth reimbursement.
Telehealth reimbursement pros
Telehealth often requires less clinical effort than in-person visits.
Many patients feel the care they receive via telehealth is on par with in-person care.
As some people return to in-person visits, telehealth use will settle, so continuing payment parity is less likely to cause runaway spending.
Telehealth reimbursement cons
Some providers deliver less value via telehealth.
Telehealth may have greater potential for fraud, abuse and overuse.
How will this be resolved? Right now, experts are recommending that insurers wait for post-state-of-emergency data on access, cost and quality before making a call on parity. However, the general consensus seems to be that telehealth can be used to reduce spending, improve access and prioritize the patient experience — it's just a matter of how.
5. The consumer experience will inform all aspects of telehealth in the future
People have a choice when it comes to healthcare. As a provider, you've long known this to be true. However, many consumers haven't viewed healthcare that way — until now.
The consumerization of healthcare accelerated rapidly over the past two years, including in the realm of telehealth. Patients today are far more likely to:
Be proactive in their care.
Have a stronger opinion and voice that opinion in the form of public feedback.
Demand successful outcomes and high-quality experiences.
Select providers who offer digital tools and technologies they want.
Take advantage of the fact that competition between providers exists.
For providers, that means every telehealth effort has to consider the customer experience first and foremost.
PayGround and the future of telehealth
The connection between telehealth and online healthcare payments is clear. A technology like PayGround instantly improves your patient experience because it streamlines payments the same way you're using telehealth to streamline patient care.
With PayGround, patients can:
Make payments from any device
Set up scheduled payments for recurring visits
Feel safe knowing they're using a fully PCI-compliant platform
Securely store their payment information so they can pay with a single tap in the future
PayGround's process will make the entire healthcare experience easier — and you'll get paid faster, too.
Are you ready for the future of telehealth?