Pay it. Track it. Know where you stand.
Get a better handle on your medical bills with the app that lets you make and track all of your healthcare payments in one place.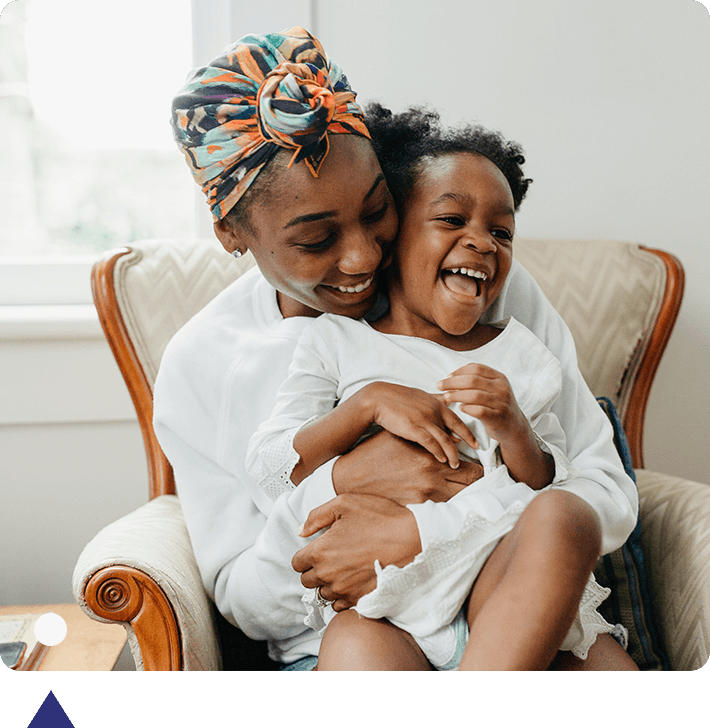 How it works
The PayGround app is designed with simplicity in mind.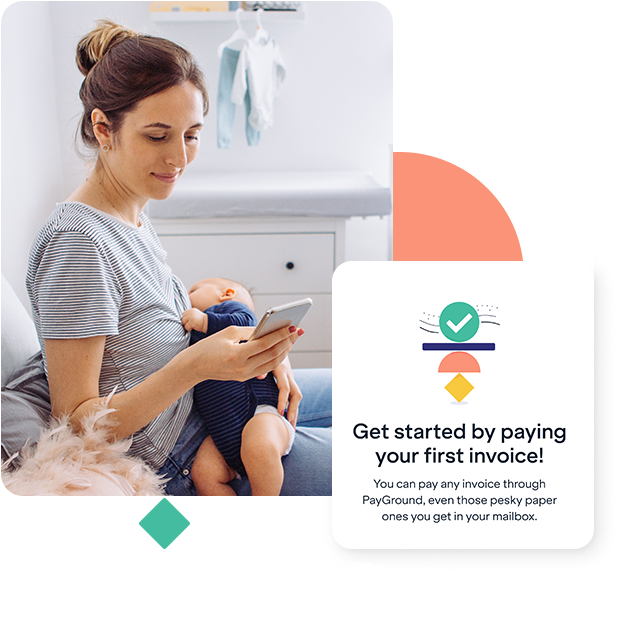 Why pay with PayGround?
You have more important things to focus on. Let PayGround take the stress of managing medical bills off your shoulders.
Save time and energy with PayGround.
Simple and stress-free healthcare payments
Access, manage, and pay medical bills for you and your family on one streamlined app. Healthcare's Digital Wallet™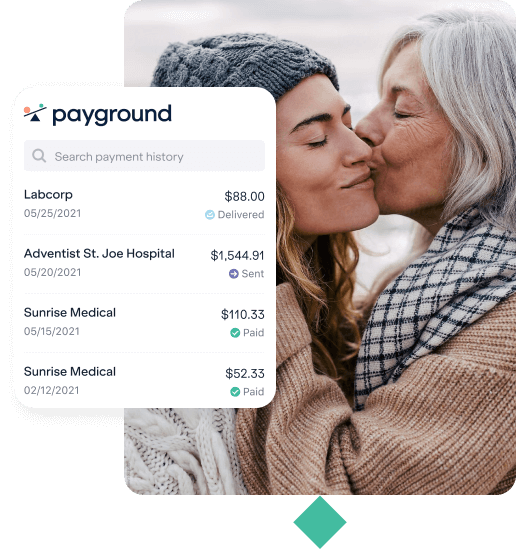 FAQs
How can I see if my payment was received?
When paying an e-Invoice from a PayGround network provider, the payment is batched by the end of the day, and the provider is notified of the payment. The payment will have the status of 'Paid' in the mobile app.
When paying a provider outside of the PayGround network, when a payment has been received by the Provider, the payment will have a status of 'delivered'. (PayGround will receive that change of status information through webhooks.). However, it may take additional business days for a Provider to reconcile their systems with incoming payments.
What if my doctor has multiple locations?
For providers that utilize the PayGround e-invoice system, all outstanding balances for an organization will show in the mobile application
When paying a provider outside of the PayGround network, PayGround will drop a check to your provider at the remit address listed on your statement. It is important to verify the remit billing address on the bill details screen when making a payment.
How do I change my bank account?
PayGround has partnered with Plaid to instantly authenticate bank accounts for payments. Plaid makes it faster and easier to set up bank payments through a flow designed with the user experience and security in mind. Users enter their online credentials and Plaid instantly authenticates their account. In order to change the account you would like to use, simply use Plaid in the PayGround app to connect to another account or bank.
How long will it take for my payment to get to my doctor?
When paying on e-Invoices, payments are available to the provider the next day.
If paying a provider that is outside of the PayGround network, check payments are typically delivered and credited to a patient's account within about 7-9 business days from the date the payment is processed.
Can I make a partial payment?
When paying on an e-invoice to a PayGround network provider, full payment on an individual invoice is necessary. If you have more than one outstanding invoice, you can choose which invoices to pay.
But, when paying a provider that is not in the PayGround network, similar to writing a check, the amount you would like to pay your provider is completely up to you. Please note that you may incur penalties for not paying the amount due in its entirety. If you have specific questions related to payment amounts, please contact your provider.
Can I set up a payment plan?
Payment plans may or may not be available, please contact your provider to discuss a modified payment schedule.
How much does it cost to send my payment?
We charge a 3% fee when paying a non-PayGround network provider with a card. ACH payments are free.
All e-invoice payments are free to you, regardless of your payment method.
Can I pay a bill for my family member?
PayGround allows anyone to pay the patient's payment. Once paid, a physical check will be sent to the provider that includes information entered from your statement.
What payment methods can I use to pay my doctor?
Payments can be made electronically by entering your bank routing and account number, or by using your credit, debit or HSA/FSA cards.
Is my information secure?
All data that PayGround collects is stored with one of the most secure methods and standard levels of encryption for banks, AES 256-bit encryption. Additionally, PayGround holds a Payment Card Industry Data Security Standard (PCI-DSS) Level 1 certification level, the highest certification level in the payments processing industry, setting the standard for the storage of sensitive card information.
What is Plaid?
Plaid makes it easy to securely connect your bank to the apps you want to use.
How it works:
Plaid connects to 11,000 financial institutions across the United States, Canada, and Europe. With Plaid, connecting your bank account is easy:
Step 1:
When you sign up with a Plaid-powered app, you'll be able to select your financial institution from a list. Then, enter your login and password.
Step 2:
In a matter of seconds, Plaid encrypts the data you've chosen to share (for instance, your account balance) and securely share it with the app you want to use. Plaid will never share your login and password with the app.
Step 3:
Plaid works behind the scenes to build a secure, ongoing connection between the app and your bank
How does PayGround work?
PayGround is a network of healthcare providers, that allows for digital-first payment experiences. The network of providers can utilize e-invoices, push notifications, and next-day payments.
PayGround also allows you to pay any provider that is out of network, by entering your payment details and having us drop a physical check to your provider. This allows you to spend your time on more important tasks.
Have additional questions?