Cancer Survivors Day: Logan's Story
Cancer Survivors Day: Logan's Story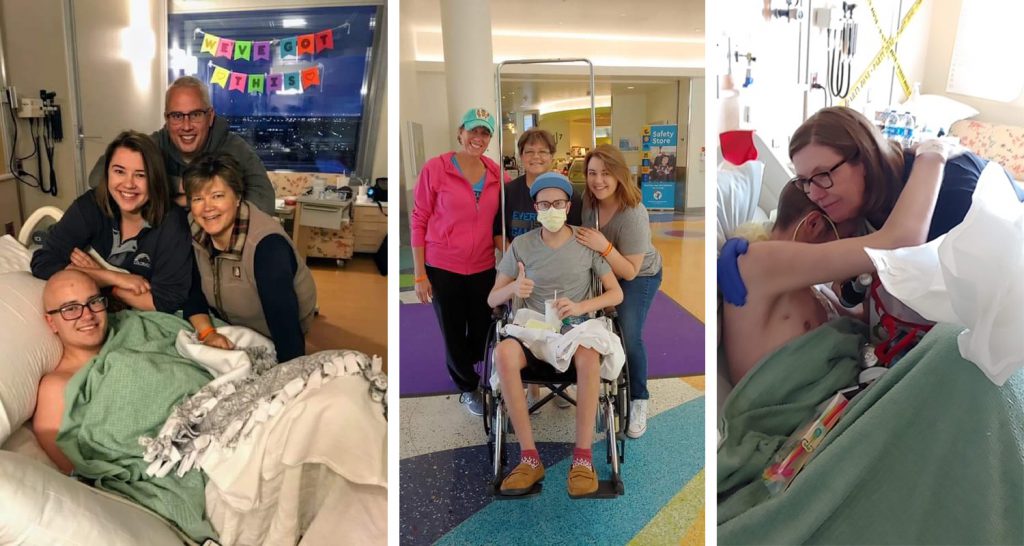 Here at PayGround, we celebrate Cancer Survivors Day each year on June 6. Last year we featured our CEO, Drew Mercer, and his journey with testicular cancer. His journey played a huge role in our origin story and is one of the reasons PayGround exists.
Today we are honoring a story from 23-year-old Logan Graybill. He battled Acute Myeloid Leukemia (AML) while in college and has an incredible story. Please join us in reading his story below.
Logan's Story
Hello my name is Logan Graybill and I am a 23-year-old who lives in Arvada, Colorado. I was studying construction management at Colorado State University when I was diagnosed with Acute Myeloid Leukemia (AML). It was my spring semester of my sophomore year when my life changed forever. I was working on numerous final projects and ended up getting sick with what I thought was a head cold.
After a couple of weeks the symptoms got worse and I was spiking extremely high fevers. I went back to the doctor and they drew some labs to rule out mono as I was a college student. Two days later I found myself back at the doctors where it was there that I learned that I had become a cancer patient. I was told to go straight to the hospital where my treatment began. I was fortunate enough to be treated at one of the world's best hospitals especially for my particular kind of cancer.
Children's Hospital Colorado became my home for 192 days while fighting this ugly disease. During that time I received 5 rounds of extremely aggressive chemotherapy and had spent 22 days in the ICU where I had abdominal surgery to repair a hole in my colon caused by the chemo. After months of getting healed and learning to walk again, my body was finally able to receive a bone marrow transplant to rid the cancer. A month after my transplant I was able to ring the bell as a sign of the end of treatment and was able to go home. I spent the next 11 months trying to put weight back on and trying to gain strength and stamina.
A year to the day following the day I was able to go home, I received news that I had relapsed and leukemia had been found in my recent tests. Round two was a little easier as I knew what to expect and the cancer was caught way sooner than it previously was. I went through another three rounds of chemo and went straight to another bone marrow transplant. The transplant went well with some lingering side effects which is a good indication as it's the body's new cells fighting the old cells.
Currently, I am one year and three months post transplant and my labs and tests indicate that I am in remission. Throughout treatment I developed a close relationship with God and learned what my purpose of being diagnosed was. In my heart I feel that I was put on this path to give back to the community, especially the cancer community. This last spring I was approached by a pediatric cancer research non profit organization called WillStrong in hopes of me becoming an ambassador for their foundation. It didn't take but a few short seconds to accept that honor and in doing so have developed some amazing relationships with individuals who had/who are currently fighting cancer.
In addition to fundraising for this wonderful organization, I also decided to train for a 42 mile bike race in the Rocky Mountains as another way of fundraising for a wonderful cause. In July I will be riding along side my aunt, who is a cancer survivor and who just lost her husband to cancer in December, as well as hundreds of nurses, doctors, previous cancer patients, as well as entire families who all have the same goal in mind which is to honor all of the patients who have/who are currently fighting cancer.
Throughout my journey I was blessed to meet some of the most amazing families whose children lost their battles and are not with us anymore. This ride, along with the other fundraising I do, is in honor of these individuals who I hold near and dear to my heart. We won't stop fighting for more funding for pediatric cancer until all children are cured of cancer. Less than 4% of government funding goes towards pediatric cancer which is substantially less than what it needs to be.
It would mean the world to me if you are able to donate to one of these foundations or to one that is similar. I can't thank you all for taking time to read a little about me and if there is anything to take away from this, I would hope that it is to hold your loved ones a little closer and to have faith in God as our lives can drastically change in the blink of an eye.
How to Donate
If you are interested in donating to Logan's bike race, you can donate here.