Catching Up To The Future: Contactless Payments
Catching Up To The Future: Contactless Payments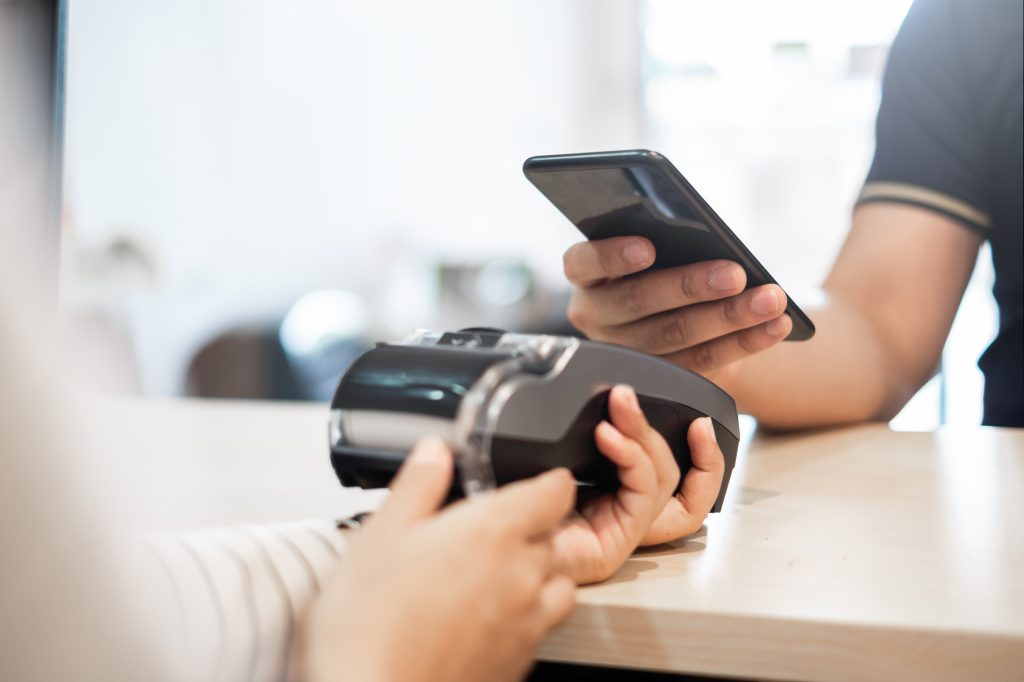 The US is being forced to adapt to a "new normal" very quickly. Whether for good or bad, this requires significant changes in technology and human behavior. These changes can especially be seen in purchasing, where contactless payment is now practically a requirement for any business looking to survive the new social and regulatory constraints.
Contactless payments in the U.S.
According to ATKearney, the US is behind when it comes to contactless payments. Compared to other developed countries, people in the US tend to use contact-full payments (like swiping credit cards and using cash), much more frequently. As of 2016, contactless payments made up for over 20% of payments in other countries like China, the UK, Canada and Australia, but didn't even reach 1% in the US.
This is ironic, because Visa estimates that 78% of its top retailers have the ability to accept contactless payments already… it's just consumers are reluctant to adopt the new tech. Why? Security concerns. Surveys show that Americans aren't convinced that tap payments are safe.
Our previous reluctance towards newer forms of payment, like tap cards and phone pay, is now causing problems due to hygienic concerns. In an era where people are hard pressed to touch Amazon boxes, how do you justify handling cash or swiping your card through a dirty machine?
Contactless payments on the rise
The US is catching up, though… and quickly. According to Mastercard Contactless Consumer Polling, contactless payments are on the rise, partly due to COVID-19, with Americans using various methods in the hopes for cleaner, more hygienic transactions. They write that between February and March of 2020, contactless transactions in the US grew twice as fast as traditional transactions. Mastercard estimates a 40% growth in contactless transactions in the first quarter of 2020.
Americans are finally noticing the convenience that comes with contactless payment. With a concern about interacting with strangers and sanitary precautions, nearly a third of those surveyed by Mastercard switched out their primary card for a contactless one due to safety and convenience concerns. The quickest adopters? Americans under 35 years of age, who make up for 43% of those embracing contactless payment. Nearly nine in ten Americans surveyed, 88%, thought that the process of acclimating to contactless payment proved relatively easy.
How do you know if you have a contactless card?
You might even already have a contactless card and not know it. If your card has a wave-like symbol (similar to the wi-fi icon) on the front of your card, you're ready to pay for purchases at checkout with the simple tap of your card. If your card isn't contactless, most banks allow you to swap yours for one that is. Or, alternatively, consider adding your credit card to your phone's digital wallet for one-tap phone payments.
What businesses can benefit from contactless payments?
Contactless payment applies to every business, including:
Medical practices
Certified public accountants
Attorneys
General contractors
Basically any business concerned with client security and confidentiality are beginning to see contactless payment as a viable option to protect the health of their customers and employees, without impacting their bottom line.
Healthcare practices
Healthcare practices are minimizing contact with the help countertop and smart point-of-sale terminals. Although they have struggled to catch onto contactless payment in years past, the pandemic even has hospitals trying out new payment methods in hopes of limiting contact. Even restaurants, traditionally known to favor cash, are encouraging contactless payment in an attempt to limit germs.
Are you ready to transition to contactless payments?
We can't avoid the long-term implications of the COVID-19 pandemic. Any way you look at it, contactless payment is going to be a regular part of our lives. Gone are the days of receiving checks, swiping plastic cards and presenting physical invoices. Those businesses that don't embrace this transition will struggle in a post COVID-19 world. Is your business ready for the new normal? Has your business transitioned to contactless payments?
How can PayGround help?
PayGround is here to make the transition to digital payments simple, no matter your industry, business size, or service offering. How are we better? In short, PayGround is designed to be easy to use across any device, by any member of your staff, and any customer… all at a low fixed rate and without any long-term contracts. We even offer card-on-file functionality that lets your clients securely skip the payment process as a whole. But that's only the start.
To learn more about our contactless payment platform and how it can help your business, contact us today