Coronavirus & Our New Normal: 6 Changes Small Businesses Can Expect
Coronavirus & Our New Normal: 6 Changes Small Businesses Can Expect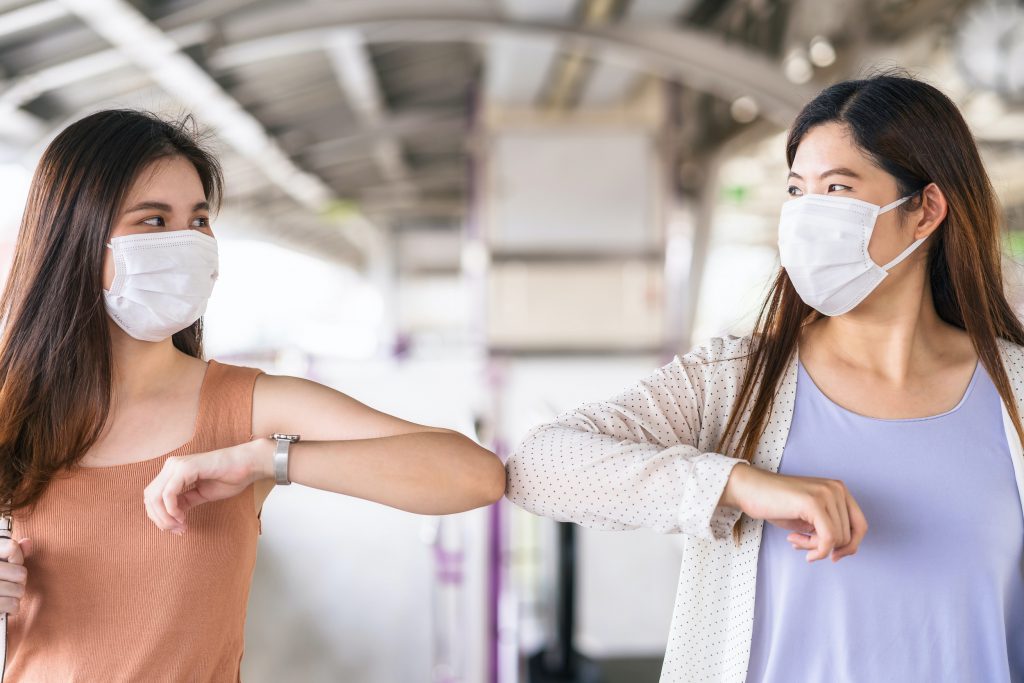 After September 11th, 2001 our world looked significantly different than it did before. Cultural shifts, like a heightened sense of security at large events, were hard not to notice and are still prevalent today. The mindset of an entire population seemed to change because of one event.
Which makes us think: what will our society look like after the coronavirus pandemic?
We're already seeing policy and cultural changes and, just like after 9/11, we should expect larger shifts. But what will these shifts look like? And, more importantly, how can we be better prepared for this new society?
We've analyzed the current policy and cultural trends and have a prediction on the 6 largest shifts we should expect in the coming years due to coronavirus… and how you, as a small business, can get a head start in adapting to these changes.
1. Remote services will not be optional
Before the coronavirus pandemic, remote work was a niche trend. Sure, there was a subset of workers that did it full-time and a portion of the population that did it occasionally, but moving forward it will be much more widespread. Small businesses, like healthcare clinics, that saw contactless services as being on the horizon will now find themselves without a choice.
The adoption of contact-free delivery, payments, video conferencing, etc. has been staggering over the last two months, and a new status quo has been set. Remote work has now become a new norm for many people.
If you're a small business that can, but doesn't, offer contact-free business, you may be at a great disadvantage moving forward. Even if the telecommuting route is optional from a risk standpoint, we foresee many people opting in simply because of this new status quo. If you or your business hasn't embraced these new telecommuting standards, you may want to reconsider. People will expect this from everyone now.
2. Physical contact will be taboo
Handshakes and hugs are going to get sideways glances for the foreseeable future. The simple act of physical contact is going to be strained. Think of all of the things you do that allow germs to pass from you to the next person — swiping your credit card, paying a parking meter, opening a door, picking up some trash… the list goes on. Anything that requires contact will now be questioned, by you and by those watching you.
Think about all of the physical contact you usually encounter — can any of that be changed? Instead of accepting cash and credit, are you accepting touch-free or online payments? Are you doing package handoffs, or can you have a space for packages to be picked up? Are you making people sit in a crowded waiting room, or can you have a system that calls them in one-by-one from outside?
We have some catching up to do on this front, anyway. According to a study by AT Kearney, only 3% of credit cards in the U.S. are contactless, compared to 64% in the U.K. and 96% in South Korea. By offering new methods of payment (via "tap and go", mobile pay, or online invoicing), for example, small businesses may set it up to be ahead of the curve.
Minimizing physical contact is going to reduce the spread of the coronavirus, and it will set a precedent for how our culture functions moving forward, even when the threat of the virus has subsided.
3. Having reserves will be the norm
If the stimulus packages haven't pulled your small business out of a financial hole, you're not the only one. No amount of government bailout is going to allow businesses and individuals to live normally under these conditions. The lesson here isn't about stimulus bills, it's about reserves. Did your bank account have 6 months of reserves before the pandemic hit? What would your life look like now if it had?
Moving forward, we expect businesses and families to be more fiscally conservative. If having 6 months worth of operating/living costs in the bank is realistic for your family or your business, consider keeping a crisis fund and find risk averse ways of investing that money.
4. Leaner operations will be the status quo
It's going to be hard to justify hiring extra personnel or buying extra equipment amongst the fear of going through another outbreak. Many businesses may take on less risk and put more focus on operations instead of growth. Efficiency will become a priority. Similarly, employees are going to be more risk-averse and less willing to jump to be the newest (and first to be furloughed) employee at a new business. For some people, security may start outweighing opportunity.
This mindset will have an effect on everything from hiring to accounting, but our recommendation is to focus on the low-hanging fruit. Can you collect payments faster and more efficiently? Can you create duties for your existing employees to delay hiring another person? Do you really need that bigger office or that extra piece of equipment? Questions like these can not only protect your business from a COVID-esk crisis, but make your operation run better during the good times, too.
Hint: Healthcare providers that use PayGround experience a 23% increase in collections within the first 90 days.
5. Medical and financial support response will (hopefully) be faster
Coronavirus was the first global pandemic that humanity has seen in almost 100 years, so it's not surprising that our government and society weren't quite ready for it. Our response measures, including social distancing and stimulus bills, would have been ushered through faster if we had had more recent experience with a crisis of this magnitude. This may be hopeful… but we expect a greater awareness and response to viral outbreaks in the future, especially since there are sources predicting more waves of COVID-19 cases in the coming months.
Even with a faster response from the regulatory bodies, businesses and individuals need to have procedures for another natural disaster. We, as businesses and individuals, need to have processes in place to go into disaster mode. Consider creating checklists of things to do when stuff hits the fan.
6. The workforce will change
One thing that has been painfully obvious during this crisis is that everyone was affected differently. While many people were furloughed (or worse) during the crisis, many professions saw higher demand. Essential personnel saw a huge upswing in societal appreciation. Medical staff not only got national recognition, but oftentimes received record pay. Compared to brick & mortar retail, ecommerce businesses weathered the storm much more easily, and some even flourished – 43% of e-commerce merchants saw an increase in sales during the pandemic.
What will this mean for job selection in the pandemic's wake? Our prediction is two-fold:
There will be an upswing in medical employment and education.
Online businesses will receive even more focus than brick and mortar retail.
Neither of these are surprising, but they may have implications on the greater economy. Think of the students that had to miss graduation, the aviation personnel that lost their jobs, the bus drivers that were put at higher risk — what will their reaction to this crisis be?
Conclusion
Regardless of how things unfold over the coming years, we know they will undoubtedly be molded by the events we're witnessing now. The Coronavirus pandemic will shape our society just like the 9/11 attacks did two decades ago. We hope these changes are for the better and, more importantly, we hope that our society embraces these changes with preparedness.
As a small business owner, we suggest taking the lessons we are learning now to create a plan for the future. Take this time to reflect on your current processes and mindset — create emergency plans, establish a reserve fund, and upgrade your office digitally. Maybe even consider PayGround as your payment system to maximize your profit margin and create a contact-free environment.
If you're ready to take the first step into adapting your business to the new normal, contact us today.